Workshops
Workshops:
Elke week kun je naar de workshop! Op locatie of in NoordHolland. Neem je dochter mee of gebruik een van onze kappershoofden. De kosten zijn €37,50 per workshop inclusief het boek haren invlechten, stap voor stap.
Het duurt maximaal 2 uren.
De vaste workshops worden oa in Heiloo en Haarlem (KIDSSTORE).
The workshop in larger company are on:
Zaterdag 22 oktober om 10.00 in Heiloo (VOL)
Zaterdag & Zondag 29 en 30 oktober op het Kidsplein van de Kreadoe Jaarbeurs Utrecht
Zondag 27 november om 12.00 of 14.00 Kidsstore Haarlem (reserveer op www.kidsstorehaarlem.nl)
Zaterdag 10 december om 10.00 in Heiloo
Zaterdag 28 januari om 10.00 of 12.00 in Heiloo
Or on a different date at your location! Vanaf €39,50 pp
You will learn various braids; the basic braid, the fishbone, diadem braid or waterfall. We also do request numbers and Zenner takes care of the material. It takes up to 2 hours, and you only need to bring your own model (from 3 years). This workshop is also nice to give as a gift. We will then send you a nice voucher digitally, with an open date.
If the room is suitable, a maximum of 8 participants can be accommodated at a time.
Private  workshop from €125 for two hours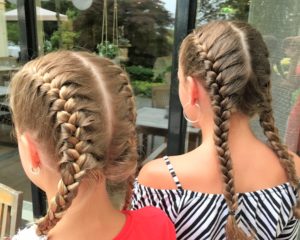 Children's parties of €125,- per afternoon.
During a craft activity or movie, Marlene will braid all the girls of the party! From 5 to 10 girls. Including all materials: pins, rubber bands lacquer, glitter and hair accessoriesInterest
? e-mail; info@hareninvlechten.nl